Homepage

We are ALL Starbucks Partners – and we are better side-by-side.
Employees across multiple industries are wanting to understand more about unionization. This is a national conversation, powered by social media and is sparking collaboration and change in the best companies. We understand and fully respect what is at the heart of this – employees want a voice and an opportunity to co-create their workplace experience alongside their management.
Part of our partner-first culture is to actively listen and collaborate with our employees. However, we know that recently we haven't lived up to what you should expect from Starbucks. There were external problems like the challenges brought on by the COVID pandemic, but also problems we created ourselves like not focusing enough on staffing, security, and operations.  You deserve better and we want to deliver better for you.
That is why our recent nationwide engagement tour is just a starting place for co-creation. Through these sessions, together we are inspiring real and meaningful change. There are and will be many other important ways to engage and co-shape the future of Starbucks. Our Starbucks partners have amazing energy and creativity. This is a tremendous opportunity to uplift the partner experience for today and years to come.
Some Starbucks partners are voting to join a union and we know many of you have questions about what is best. Simply put – we are better side-by-side. We believe we can build a better experience working side-by-side than by sitting across a negotiating table. Every partner, unequivocally, has a choice about who will speak for you in your workplace. You can choose to speak for yourself – for YOUR specific wants and needs – by working directly with us. Or you can choose to have someone else speak for you.
Working together, directly, we can quickly define what is needed most – and where. We can work side-by-side, with a shared voice and shared power to build a company that works for all of us. A company that is defined by shared belief systems of dignity, respect for each other and our planet, and the ability to thrive.
In this moment, as partners, we are working together to design the next Starbucks — an evolution of our company deep with purpose, where we each have agency and where we work together to create a positive impact in the world. As you consider your choice between the reimagined Starbucks and union promises, we ask one thing. Get. The. Facts. Your voice, your choice is too important not to.
---
Partner Benefits

Health insurance, Beanstock, retirement savings, Lyra for mental health, Spotify Premium, paid time off, parental leave, transgender health benefits, fertility benefits, 100% tuition coverage through the Starbucks College Achievement Plan – and more. We've always led the industry in making sure partners have world-class benefits, perks and programs, even if you only work part-time.
Ideas for these continuously evolving and innovative benefits and perks come from YOU – from your feedback and our collaborations. This is the POWER of your direct relationship with leaders.
---
Partners are Co-Creating the new Starbucks Experience
Collaboration sessions with Starbucks leaders and partners are happening around the country. Partners are co-creating the new Starbucks experience through their feedback and creativity to dream of the company they want to build as Starbucks enters this new phase. Click here for some Partner-created ideas we're working on now!
---
Partner Protection
All partners are held to the standards we've put in place to protect partners, customers, and the communities that we serve. We will take the necessary steps to ensure every partner and customer has a safe environment in our stores. We hold all partners accountable to the standards and policies on which they've been trained.
While we're redefining Starbucks for a new day, there are those that aim to distract – and worse – harm – our partners who are exercising their right to make their own choices. ​In fact, it's come to our attention that some of our partners are being bullied by Workers United organizers. This behavior includes blocking entrances and exits, making threats, yelling profanities, surrounding a store and pounding on the windows to physically intimidate and bully partners inside, and hitting cars with objects like picket signs, in retaliation for not supporting Workers United's organizing drive.
These intermediaries have demonstrated that not only do they not operate in the best interest of partners, but sadly they'll go so far as to intimidate and bully them. This is absolutely NOT who we are nor the warmth our "third place" offers. It's also illegal. We have made it very clear through NLRB charges that the behavior Workers United has targeted at our partners and customers is not acceptable and we won't tolerate it.
---
The Voting Process and Why Partners Should Vote
A fair, open and transparent voting process – free of intimidation or voter suppression – is at the core of our nation's democracy. We're very concerned about the union's voter suppression tactics we've seen for the last several months and have put the marker down with two charges against Workers United that we will ALWAYS stand up for our partners rights to physical and emotional well-being in the workplace.
Additionally, we've encountered impropriety in vote counting recently when 1/3 of the ballots cast in Buffalo, NY were "found" after the vote took place that were never opened and were never counted. When the ballots were finally opened, the vote went from a "yes" vote to a "tie" which, by law, means that the partners will be able to continue working directly with their leadership. The NLRB voting process MUST be conducted with integrity to ensure that ALL partner votes are counted, and ALL partner voices are heard.
What happens if you don't vote?
Simply put – if you don't vote, your voice is silenced, and you've allowed a small number of partners to make your decision for you. Many of these elections are determined by a single vote or a handful of votes. If you don't vote, you're giving others the power to make decisions about YOU. YOUR life. YOUR workplace. YOUR paycheck.
Under federal law, elections are decided by a majority of the votes cast – NOT the majority of partners. For example, if 20 partners work in a store, but only 10 vote in the election, and 6 vote for the union, then all 20 partners will be union-represented. So that means a 6 people were given the power to make your choice and to speak for all 20 partners. Don't sit on the sidelines. VOTE.
---
Got Questions?
Below are answers to some of your most frequently asked questions. Your choice is too important not to have the facts.
About Workers United
Who is seeking to represent partners?
Workers United is seeking to represent partners. Workers United is a business. This business is not a cause, a movement or group of "partners for partners." It is a business that makes money via member dues. (This means every member of a union can have a portion of their paycheck that goes to the union.) Workers United is part of one of the largest unions in the country. Like many unions, they collect requests from employees and present them to management in what is referred to as a "Collective Bargaining Agreement" (CBA). On average, it takes unions and management more than a year to negotiate and then implement first agreements. Once CBAs are completed, changes to that agreement are generally not made again until the next negotiations. See more about this below.
About Voting
Why is voting "No" best for partners?
Starbucks legacy of working side-by-side to create industry firsts for partners shows what we can do together versus what can be accomplished across many months at a negotiating table. Side-by-side, we can determine what is needed – and where. We can move much more quickly than a union, engage with you directly when you need it most and be responsive to partner needs on an ongoing basis. We know we haven't lived up to what you should expect from Starbucks. Working directly with you, we want to deliver better for you. Vote "No."
Why is it important for me to vote?
Many of these elections are determined by one or a handful of votes. If you don't vote, you're giving others the power to make decisions about YOU. YOUR life. YOUR workplace. YOUR paycheck. Under federal law, elections are decided by a majority of the votes cast – NOT the majority of partners.
For example, if 25 partners work in a store, but only 10 vote in the election, and 6 vote for the union, then all 25 partners will be union-represented. So that means a very small group of partners will make your choices and speak for you. Don't sit on the sidelines. VOTE.
What can I do if I feel intimidated to vote a certain way in the election?
First – voting for a union is done by secret ballot. Every partner has the right to vote confidentially without anyone else knowing the choice they made. You have the right to choose the future you want at Starbucks – and to tell other partners that partners will benefit more by working directly with Starbucks than they will through a third party.
What if that doesn't work?
Partners have the right to feel seen, safe and supported at work, so they can focus on doing their job, being themselves at work and serving our customers. Starbucks policies against harassment, discrimination, workplace violence and bullying remain in effect to protect our partners. If anyone is feeling unreasonably pressured about anything at work, they can talk to their RD, RVP, PRO, call Partner Relations (PRSC) at 888-7289-411 or Ethics & Compliance at 800-611-7792 for confidential guidance and support.
If there's a majority of "Yes" votes, what happens next?
If the majority of the votes are for the union, and the union is certified by the National Labor Relations Board (NLRB) as the collective bargaining representative of the partners, that store and every partner that works there in a covered job classification becomes represented by the union. In most states, you can't decide to opt-out of union representation if your store unionizes and your position is one of those within the bargaining unit represented by the union. Then, collective bargaining usually begins, which means negotiations start between Starbucks and union representatives, a process that can take a year or more for a first contract!
About Union Promises
Can Workers United make Starbucks change the way stores are operated or change policies?
Not without Starbucks agreement. Workers United cannot force Starbucks to make any changes at all. Starbucks would have to agree to changes during the collective bargaining process which takes an average of more than a year to complete. Voting for union representation. will not automatically change pay, benefits, or how we operate in any way.
If Workers United is voted in, can I still deal directly with my manager for my own issues?
No. If voted in, Workers United would serve as the "exclusive bargaining representative" for partners. In other words, you would have to rely on them to speak for you on your terms and conditions of employment. In fact, under the National Labor Relations Act, Starbucks would be prohibited from directly dealing with you in regard to your terms and conditions of employment. Without a union, you can speak for yourself, directly to your leaders and support partners. If the union were voted in, Workers United would become your only voice.
What about part-time partners? Are they excluded from union participation?
No. In most states, barista and shift supervisors would become dues paying union members if their store unionized, regardless of full-time or part-time status.
About How Unions Work
What are union dues? What are they used for?
Unions are a business, just like Starbucks – only unions make their money from member dues instead of great coffee. Union dues are taken out of member paychecks whether they voted for the union or not. These dues are used to pay for their office overhead, staff salaries and other expenses such as political contributions. If your store is unionized, Workers United may make you pay dues to continue working in your store. Any dues that are collected from member paychecks would go to Workers United, not to partners.
What are union cards?
Union cards, or authorization cards, look like simple survey cards or RSVPs, but they are actually legal documents with legal significance. Signing the card is a big decision, not just a show of support – it indicates you are choosing to join and agree to have a union be your only voice. When 30% of partners in a store sign union cards, the union can petition for an election with the NLRB.
What if I want my signed card back?
If you change your mind, you can ask the union for your card back. This might be hard to do, but it is your right. Regardless, it's important for you to know that even if you signed a union card, you can still vote "No" in an election. The ballot is secret. The final choice is yours and yours alone.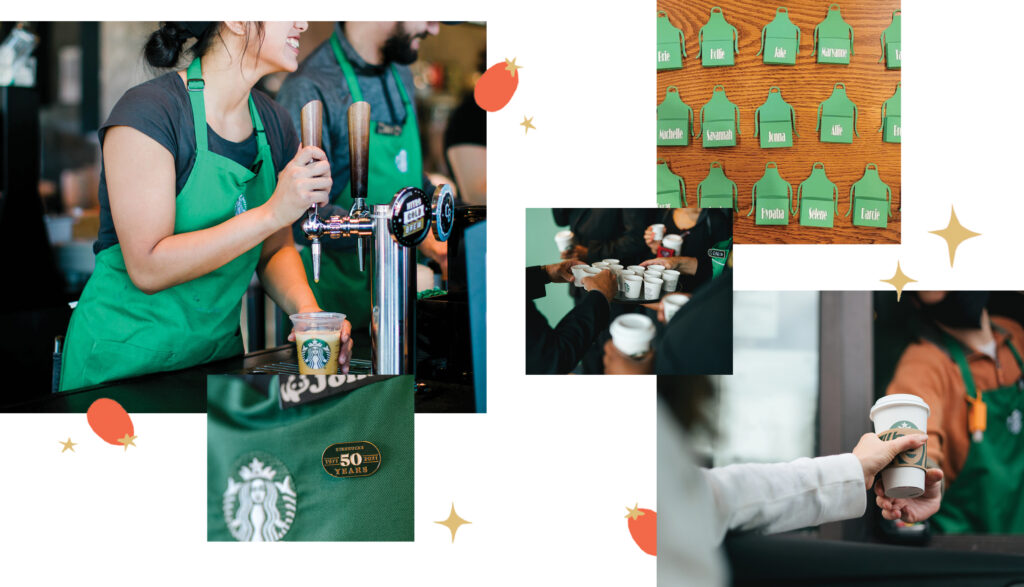 ---
10 Things to Know About a Union
Unions are a business, just like Starbucks. But they make their money by collecting member dues instead of making great coffee. Those funds are spent on things like salaries, overhead expenses and political contributions – not on partners.
If certified, the union becomes your "voice". There is no opt-out in your store. You will no longer be able to address your individual concerns with your Starbucks leaders directly.
When a union accuses a company of an unfair labor practice (ULP), the NLRB decides whether or not an investigation is warranted. Deciding that a ULP has merit is not an endorsement of the charge or a finding of any wrongdoing. Only when the full ULP process has concluded will any findings be made. To date, Starbucks has not been found to be in violation of any of the allegations.
On average, it takes more than a year for a union and employer to reach a first contract, meaning your store managers cannot act quickly to address or remedy your concerns.
In a final agreement, the union might sacrifice certain terms and conditions of employment you thought were essential. The union might also negotiate away current conditions that matter a lot to you.
You can vote "no" to form a union even if you signed a union card. Just like other elections, the majority of votes will make the final decision. Not the majority of partners. If you don't vote, other partners who do, will be speaking for you. Voting about unions is a secret ballot process, so every partner can vote anonymously for what they believe is best for them.
A contract could prohibit your store manager from working directly with you on any employment concerns. It may also prohibit you from swapping shifts in your store, picking up shifts at other stores, or other informal changes you might otherwise be able to make in the store.
Compensation can increase, decrease or remain the same. It can be a gamble.
The union may require that its members must strike and walk off the job without their regular pay, or face fines and assessments.
A union can require you to pay union dues or fees to keep your job and it can use your dues to fund things you might not support, like political campaigns or candidates you did not choose.
---
How Voting Works
---
ADDITIONAL RESOURCES
Additional sources can help provide information on unionization. Learn about the NLRB and the Department of Labor's role in facilitating elections and administering and enforcing labor standards.
---
LATEST UPDATES
Letter to Starbucks partners: Our path forward after Buffalo union vote (12/20/21)
Buffalo union vote results and what matters most (12/9/2021)
A message from Kevin Johnson: Going forward together as one Starbucks (12/7/2021)
---
ASK US
Are you a store partner with more questions about unions?
Start with your store manager, partner resources manager or district manager. If they don't have the answer they can help you find it.
If you have other concerns, call the Partner Contact Center at 888-728-9411 for guidance and support.