Frequently Asked Questions
Frequently Asked Questions
Why is Starbucks providing us with information?
You're hearing from union organizers, and you should hear from us too. We also encourage you to do your own research and get all the facts. This decision is too important to leave to anyone else. More than anything, we want every single partner's rights to be respected.
What can I do if another partner won't leave me alone about supporting a union?
We believe that an open discussion about unions will ultimately benefit all of us, and partners may talk with each other about union topics regardless of which views they have. On occasion, that might mean that one partner decides to express their view even after the other partner has said they don't want to hear any more, which can be annoying but still be a legally protected communication. Partners won't always agree, but we should all continue to show up for each other with kindness and respect, regardless of our positions around unionizing. You have the right to not seek union representation, and to tell other partners that you are not interested—and to feel heard, safe and supported in that. Our policies remain in effect to protect you and our other partners and your right to work in a respectful environment. Remember, if you have concerns about anything in the workplace, you can talk to your DM, PRO leader or call the Partner Contact Center at 888-728-9411 for guidance and support.
Why should I vote?
Your vote is your voice. If you don't vote, you let others make this important decision for you. Under federal law, elections are decided by a majority of the votes cast, even if it's less than the majority of the partners eligible to vote.1 For example, if 25 partners work in a store and only 10 vote in the election of which 6 vote for the union, then all 25 will be union represented. That is why it is important that everyone votes. It is a secret ballot election so partners can vote confidentially, without anyone else knowing.
Some partners have said that they will quit working for Starbucks if Workers United is voted in. What can the company do to help those partners?
Our goal is to make sure every partner is feeling seen, heard and supported. The best thing we can all do is to provide the facts and options available so that every partner can make an informed decision.
Can Workers United make Starbucks change the way stores are operated or change policies?
Voting for Workers United will not automatically change your pay and benefits or how we operate in any way. Voting in Workers United only gives the union negotiators the right to ask for changes to be made. Starbucks would have to agree to make any changes in negotiations.
If Workers United is voted in, can I deal directly with my manager for my own issues?
If voted in, Workers United represents the partners and Starbucks would be prohibited by law from directly dealing with partners over their terms and conditions of employment. Under the National Labor Relations Act, Workers United would become your "exclusive bargaining representative" and you'd have to rely on them to speak for you on important issues.2 Without a union, you can speak for yourself, directly to your leaders and support partners.
What are the union dues? What are they used for?
Unions get their revenue from dues, which could come out of your pay each week or month. Unions use dues to pay for their office overhead, staff salaries and other expenses. Workers United may require you to pay dues to them to continue working in your store and any dues it collects from your paycheck would go to Workers United, not to partners.
Will Starbucks sign the Fair Election Principles that Workers United drafted?
The National Labor Relations Board (NLRB), which is a federal agency, has a process it has used for over 80 years to protect voters' rights, and we will 100 percent follow it.
Why did Starbucks hire legal representation?
This is a legal process that begins after the union files a petition with the NLRB. We want to make sure that what we say and do is lawful, and most importantly, that the rights of our partners are respected. To do that, we need to have strong representation and support from legal counsel.
What is the impact on part-time partners? Are they excluded from union participation?
Every barista and shift supervisor in a union store would be represented by the union, regardless of full-time or part-time status.
Can partners lose their jobs if they try to organize a store?
No, we have never separated a partner for organizing, and we wouldn't. However, all partners, whether they are organizing or not, are expected to follow Starbucks policies. We recently investigated several potential safety and security violations at a petitioned store in Memphis. Our investigation revealed partners failed to maintain a secure work environment when they opened a closed store after hours, without permission, to hold a private event. They also opened the closed store to non-partners and these unauthorized individuals were allowed behind the line and in the back of house while leaving the unlocked door unattended. Partners know that anyone who is not a partner, and even partners who are not scheduled to work, are not allowed access to the store when it is closed. We also learned that a partner opened the store safe when the partner was not the designated cash controller. Given these serious violations (though there were additional safety and security violations), several of the partners involved are no longer with Starbucks. Out of respect for their privacy, we will not go into further detail here. These decisions are always hard, but as partners, we are all trained on these policies and procedures and follow them daily to keep each other safe.
What are union cards?
Union cards, or authorization cards, look like simple survey cards or RSVPs, but they are legal documents with legal significance. Signing the card is a big decision and is not just a show a support – it indicates you want to join and be represented by a union. When 30% of partners in a store sign union cards, the union can petition for an election.
Want your signed card back? If you change your mind, you can and should ask the union for your card back. This might be hard to do, but it is your right. Importantly, even if you signed a union card, you can still vote no in an election. That final choice is yours.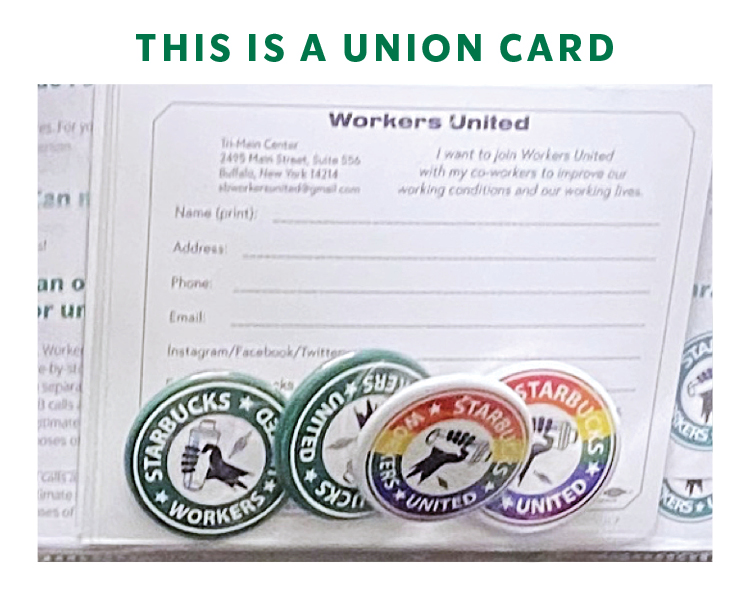 ---
https://www.nlrb.gov/about-nlrb/what-we-do/conduct-elections
National Labor Relations Act, Section 9 (29 U.S.C. §159)